Former world champion reveals that she was ordered to lose Olympic semi-final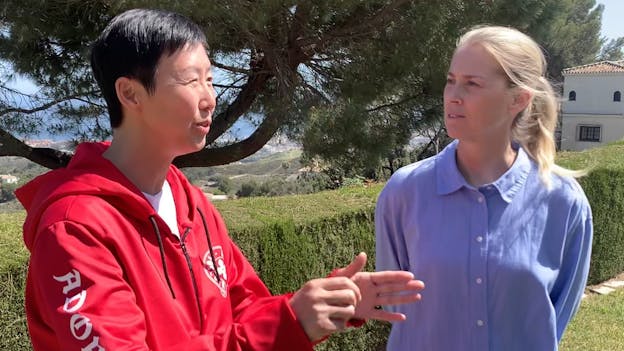 In an exclusive interview with TV 2 SPORT, former Chinese badminton star Ye Zhaoying discloses details hitherto held secret.
Imagine that just before the most important match of your career, and a unique opportunity to qualify for an Olympic final, you are instructed to throw the game and lose.
Failure to obey will mean you are considered a traitor to your country and the end of your career.
According to the now 48-year-old Ye Zhaoying, this was her reality when, in 2000, she was one of the world's best badminton players. Ye Zhaoying was victim of a Chinese Olympic conspiracy against the Danish women's singles player Camilla Martin in China's pursuit of a gold medal.
"You feel so powerless, because it's just you against the whole system. The Olympic Games are almost a once-in-a-lifetime opportunity for an athlete, and it feels so desperately tragic when you have to throw it all away. But I'm just one person, and there was nothing I could do against the system," says Ye Zhaoying.
In an exclusive interview with TV 2 SPORT, the Chinese champion tells the whole story for the first time about what exactly happened 22 years ago at the Sydney Olympics, when she was instructed to take a dive in the semi-final against her compatriot, Gong Zhichao.
The plan worked, with the proud badminton nation of China taking gold when Gong Zhichao went on to beat Camilla Martin in the final. However, the fixed match also brought with it big losers: the rules of the game, justice and the Olympic spirit.
Erased from history and a life in exile
The story about the fixed match has been gnawing at Camilla Martin, TV 2 SPORT's badminton host, for a long time. Both as an active player, when she first got wind of the story, but especially since 2004, when she retired from badminton and gained clearer insight into China's methods on and off the court.
However, Camilla Martin only recently managed to persuade the Ye Zhaoying to come forward and speak openly about the controversial Olympic semi-final in 2000. How it was agreed, who was involved, and why she deliberately lost.
The two former rivals met for an interview in the Spanish city of Malaga, where Ye Zhaoying now lives in exile with her husband, Hao Haidong. As things stand now, they will never travel back to China.
"Anything could happen. We could be detained, arrested or even executed," explains Hao Haidong, who was himself a professional footballer in the 1990s and 2000s.
He was China's answer to Lionel Messi or Cristiano Ronaldo. As a result, there was much furore when, in June 2020, from his house in Spain, he went public, and with support from his wife, fiercely criticised the Chinese regime.
From that moment on, both Ye Zhaoying and Hao Haidong became persona non grata in their own country. In just a few hours, the two retired sports stars were erased from Chinese history books, and it was as if they never existed on the Chinese internet. You will get no hits whatsoever if you search for their names on Baidu (the Chinese equivalent of Google (ed.)).
"Imagine what's been going through our heads. We've been beset by what would happen to us. We've thought a lot of about it and we were concerned that our very lives were at risk when they began to delete our records," says Hao Haidong.
The Olympics mean more than anything for China
Following her husband's revelations, Ye Zhaoying feels that she has nothing more to lose by stepping forward.
The previous women's singles star and world champion in 1995 and 1997 is ready speak about events at the Olympics, when she was robbed of her opportunity to earn the only gold medal missing from her collection.
With two other Chinese players, Gong Zhichao and Dai Yun, she qualified for a place in the semi finals, with Camilla Martin also still in the tournament.
China was indifferent about who actually won - just as long as it wasn't the Dane.
"All that was important was success for China. The Olympics is the most important tournament in China. Not only for the players, but especially for the coaches and the senior echelons of the Chinese sports association," explains Ye Zhaoying.
"They have to set a target for the number of gold medals they expect. So it's vital for both the coaches and managers to return with a pocket full of gold. Otherwise they risk being fired. That's why they start fixing matches up to and during the Games."
Ordered to lose
She was to meet her compatriot, Gong Zhichao, in the first semi-final, while Dai Yun and Camilla Martin were scheduled to play later the same day. The order of matches played a crucial role for Ye Zhaoying.
"No one knew whether Camilla would go on to the final, and they had to decide which of us was most likely to beat Camilla in the final. They decided that I had to lose to Gong Zhichao."
Ye Zhaoying goes on to explain that, among others, the former head coach of the Chinese national badminton team, Li Yongbo, and the head coach of the women's singles team, Tang Xuehua, informed her of their decision on the evening before the semi-final.
"They told me it was important that no one could see that I was losing deliberately. It was also important that I didn't tire Gong Zhichao, so I had to lose in two straight sets. The match couldn't go to three sets because Zhichao would become too exhausted.
It was simply an order. Absolutely no doubt about it. They came to tell me that I had to lose, and they would give me the same reward of a EUR 21,500 bonus as the winner of the gold medal. There was nothing more to it.
But I didn't want the money. I wanted the honour of the title," says Ye Zhaoying despairingly.
Expert in no doubt that the match was fixed
She goes on to explain that she decided to start by playing to win, before later hitting the shuttlecock over the line and into the net. She wanted to show people who know about the sport that she was forced to lose.
When TV 2 SPORT's badminton expert, Jim Laugesen, watches the controversial semi-final 22 years later he is in no doubt that the match was fixed. He was in the doubles tournament at the 2000 Olympics himself, and he remembers Ye Zhaoying's normal game clearly.
"But the pictures I've seen again now leave me in no doubt that she deliberately threw the match. Ye Zhaoying was a class player, and you can see from her attitude and the way she misses shots or hits the shuttlecock off court that she wasn't there to win," says Jim Laugesen.
TV 2 SPORT has asked the International Olympic Committee (IOC) to comment on Ye Zhaoying's allegations, but they have not replied to our inquiry.
Feared being called a traitor
But why did Ye Zhaoying obey the order?
According to Ye Zhaoying herself, it was about the culture in all sports in China. Very young athletes are taught from the beginning to train hard for the honour of China.
Going for individual success was never an option.
"If I had won my semi-final and then gone on to lose to Camilla in the final, all of China would have considered me a traitor. My previous victories would have been meaningless, had I not won gold. Everything was about the Olympics."
Fiercely critical of the system
Ye Zhaoying felt alone against the entire organisation because the organised cheating was never mentioned between players. There was tacit acceptance, but not for any longer:
"That's why my husband, Hao Haidong, and I are now coming forward and speaking up against the Chinese regime and its corruption that has made all Chinese athletes into political tools. We didn't fully understand at that time.
We were victims of a dysfunctional system. We were pawns in a system that cared nothing for truth or for justice," says Ye Zhaoying and she is backed up by her husband.
But the same system also helped you to become badminton and football stars. Can you see why I'm asking what makes you go against the system now?
"No, we can't. We'd have done better under a civilised, democratic system. Even without the failed system. Our society would've been better off," says the former footballer, Hao Haidong, and he raises his voice:
"If the system made us into the stars we became, why aren't there 20 more like me or 10 more like Ye?"
"She's always anti-China"
TV 2 SPORT asked the Chinese Badminton Association (CBA) to comment on the above statements from the former Chinese sports stars, and the alleged cheating at the Olympic Games, but they have not replied to our inquiry.
We also asked the Chinese Embassy in Denmark about the allegations of cheating at the Olympics and the general match-fixing in China up to and during the Games. Moreover, we asked about China's decision to erase the couple from the history books. The embassy replied:
"She (Ye Zhaoying (ed.)) has always been anti-China. Her statements don't deserve a response."
The reply is entirely in line with the Chinese decision to erase the China-critical couple from the history books and the internet.
However, this changes nothing with regard to the intentions of Ye Zhaoying and Hao Haidong to continue their public criticism of the Chinese regime and to talk about their experiences in the Chinese sports system.
"The Chinese government says that we're traitors, but we have never said anything negative about the Chinese people. We've only spoken out against the Chinese regime," argues Hao Haidong.
"If you look at what we've lost compared to what we can contribute to future generations in China, it's all worthwhile. We want the world to see the heinous actions committed by the Chinese government."
Family and friends have turned their backs
In this context, the previous national footballer also mentions that their public statements have caused both friends and close family to turn their backs on the couple.
"My parents have said, 'Hao is no longer part of this family'."
Ye Zhaoying interrupts and says that both her daughter and her father back home in China are furious with her.
"My father always says that I should live my life and stop talking about the Chinese government. They're firmly against what we're doing."
Don't you still talk to any of the old sports stars?
"No, none of them. Former and current national players have deleted me from WeChat (messaging service (ed.)). One of them is Dai Yun, who I shared a room with when I was on the national team."
Hao Haidong has also seen old teammates blacklist him on WeChat because they no longer want to talk with him.
Olympic bronze after honest match
According to the Chinese sports couple, they still own more than ten properties in China, probably worth more than EUR 135 million, and Hao Haidong is the co-owner of several companies.
All of the bank accounts linked to these activities have been frozen.
Ye Zhaoying won a bronze medal at the Olympics in 2000. According to herself, she won in a fair match against her teammate Dai Yun, who was humiliated in her semi-final match against Camilla Martin.
"The match for bronze wasn't fixed of course. The system didn't care who won, because we were both Chinese. So we played an honest match for the bronze."
Camilla Martin ultimately won silver, while Gong Zhichao won gold – just as the Chinese planned.